How to make money with Python
Python is a clear and object-oriented programming language that is in demand because it is widely used to automate Data Science functions and statistics.
Python is compared to Java, Pearl, Ruby, and Scheme, as it helps many programming tasks, making it perfect for prototype development without jeopardizing maintainability.
Most of the programmers know how to write elegant syntax on Python but do not know how to transact their skills to make money.
So, this tutorial is going to help you on How to Make Money with Python through various tactics mentioned below.
In this article, you can find inspiration and some good ideas to get you more efficient with Python and start manifesting smart ideas about how to make a living with Python as well.
You can also check out our Exercises section to advance in Python rapidly.
Best practices to become proficient with Python
Python Exercises
Before you start focusing on making money, you should focus on becoming as proficient as possible with Python.
Python is a dynamic programming language that empowers programmers with syntax to represent ideas or concepts in fewer code lines than any other language like Java or C++.
Python assists numerous programming models, which is object-oriented. And it has an extensive library with automatic memory management, which helps in different systems.
To get a solid grasp on Python, we recommend the following exercises, which can help you understand and learn the language simultaneously, thereby improving your Python skills.
Practice will make you a great Python programmer and it will equip you to perform complex tasks on diverse projects that you do in the future.
Ways to Make Money with Python
Here are all the methods recommended by us which can help you start earning money with Python:
Freelancing
The first way we recommend starting is Freelancing as you can be self-employed and make a living.
You can get many projects from various Freelancing websites like Freelancer, Upwork, Fiverr, and many more.
All you need is to set-up a winning Profile and apply for jobs on various platforms.
Or it can be the other way around as you can also be employed by many companies or entrepreneurs looking for capable individuals to finish their programming work.
An attractive or winning profile can get you many projects. You can also mention your per hour rate for completing the work or a fixed amount to do a particular task.
If you guys want to know more about freelancing from your coding, then here is a YouTube channel that we recommend: Clever Programmer
This YouTube channel is all about Freelancing with your Programming skills.
Be a Python Developer
Python developers make upwards of $100k per year as it is one of the most leading paying jobs in the business right now.
You can help businesses in optimizing statistics algorithms, executing data security systems, testing new codes, and more.
Many high paying companies are always on the look-out of a proficient Python Developer, and it always helps if you have done some projects as it raises your chances of getting the job.
Teach & Create Online Courses on Python
You can teach coding or create courses online on Python if getting a job as a developer is difficult for you, or you lack experience in the field.
You can create simple or advanced courses on Python and upload them on platforms like Udemy, Coursera, Code Academy, and many more from where you can get many sales, as many budding entrepreneurs and students are always on the outlook for learning how to code.
Also, if you have extensive knowledge of computer science and know many programming languages, you can become an online tutor for a Business or at a University, which can also help you make money with Python.
Start your Python Blog or Website
You can start your Website or Blog on Python and all things related to Python with helpful articles or posts, which will help you build your online audience, which in turn can become your paid students.
Your website must exhibit your skills as a Python programmer as it is a way to brand your expertise in the field. Also, share your Portfolio on your website, which progressively develops trust with your audience.
You can code your website or can host it on a platform like WordPress to create your blog. Lots of themes and plugins are going to make your life convenient in the process of building your website.
You can put Adsense or advertise affiliate products on your blog once you build a significant audience to make money with Python. You can also sell your online courses on the website to your readers.
Develop Apps & Games using Python
Take advantage of your knowledge of Python to develop apps and games to make money with Python.
Did you know that Sims 4 was developed on Python?
We are not telling you to create a video game just like Sims 4, but you can create a simple game or a fantastic app with Python on Android, iOS, or Windows.
If you need help creating games with Python, then we recommend the following tutorial:
Create Your Own Startup With Python
These tutorials are going to help you get a glance as to what is possible with Python.
Participate in Coding Contests
By joining or participating in coding contests, you can earn a significant amount of money if you win as many contests offer a generous amount of cash or prizes to the winners.
The various popular coding contests websites are TopCoder, Coderbyte, Project Euler, HackerRank, CodeChef, CodeWars, and many more.
Solve the coding problems of many global customers by competing in single-rounds with many programmers.
You also have the opportunity to get hired from top developing companies if you win multiple contests as recruiters from many corporations are scouting for talented coders.
If you do not win, it can be a good learning process for you as you get to see the code of other programmers as well, which will help you learn and grow at the same time.
So, we recommend you participate in Coding Competitions.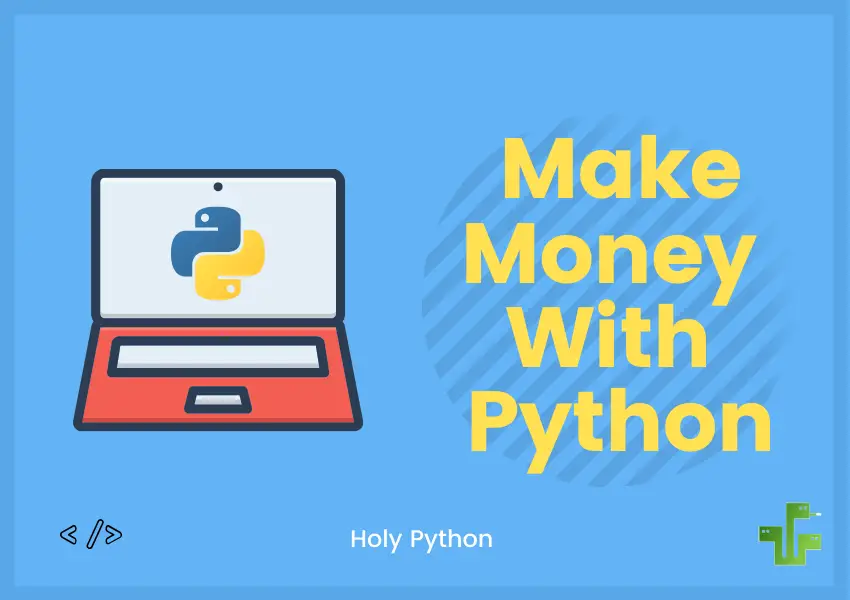 We have mentioned here some ways you can Make Money with Python online as a programmer. And you can make a full-time income if you follow our recommended methods to earn from Python.
In the end, it all depends on your skill and determination to be successful as a programmer.
And if you follow our tips, then please share it with us which one you liked the most in the comments section below. We would love to hear from you.
Also please note that, there can actually be infinite ways to make money with a programming language like Python. We tried to provide some of the general ideas out there regarding how one can make money with Python. 
Programming languages are similar to spoken languages but they are used to communicate with computers and machines. With this ability you can come up with endless creative solutions that can make you earn money as a byproduct of your solution and service.